Amber's Organics Spa Quality, Freshly prepared Handcrafted Products.
Hand crafted facial masques, exfoliating scrubs & Lip Treatments that are all freshly prepared.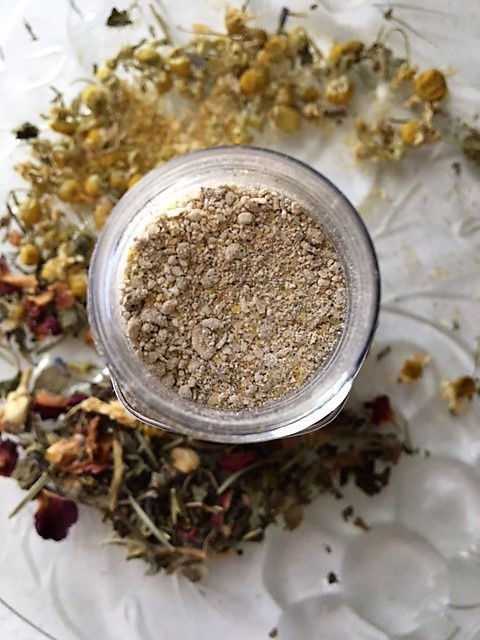 Here we have the perfect solutions for the sensitive face. My hand-crafted creations are nourished with vital nutrients, botanical extracts, hydrating oils, and exotic clays which are then carefully blended into these unique facial treatments. I study herbal medicine extensively to ensure I create a high quality product that balances with delicate skin and sensitive skin issues. Each exclusive product is made fresh for each new order. I do not leave my products standing around for months (or even years) on shelves as I believe fresh really is best. I create each item with dedication, care, time, effort and considerable thought using the purest of organic and nature inspired ingredients. Each treatment is Individually abundant in organic herbs, medicinal flowers, nutritious spices, ancient detoxifying clays, soothing nutritious grains and other exceptionally pure, non irritant, non toxic 100% pure ingredients. These are high quality organic spa products at a considerably affordable cost.

My range of organic face masques and scrubs are made from finest organic earth clays beneficially rich in essential nutrients for promoting a glowing, radiant complexion and for eradicating, skin blemishes, acne, unevenness, sagging skin, spots, wrinkles, scaring and harmful toxins with an added protection from pollutants. I add no chemicals, or additives they have a long shelf life unless mixed with liquid then they will go stale quickly. Many of these these are DRY masks that you can add you own spring water ( preferably slightly warm) or you may experiment with mashed fruits, aloe juice, herbal teas, such as chamomile (my favorite!) or any other exiting new mixers you can create, these masque creations will make a fun night in for the girls! All products are tested on my own super-sensitive-chemically intolerant skin first.
"My goal is in making, creating and selling naturally safe chemical free organic high quality products at an affordable cost to the consumer regardless of the loss I initially will make. I find I am increasingly horrified at the extortionate prices charged for products just "claiming" to be that of an organic nature. I want to help change this so we all can have an equal right to buy the very best for our selves and our families ensuring our own health safety standards are achieved. We also have a responsibility to environmental cause and should be fully aware and active in reducing harmful chemicals to restore earth quality for on going generations." Amber Soffea.
Basic Guidelines For Natural Anti-Aging Skin Care
Drink plenty of water! No matter how old you are you should be drinking lots of water. It keeps you hydrated and flushes toxins out of your body.
A healthy balanced diet. A balanced healthy diet high in anti-oxidants is the all-important base for natural anti-aging skin care. Anti-oxidants help protect our skin from damage. As we age our skin changes and our diet should also change to suit our bodies needs. A healthy diet alone can make the world of difference in how your skin ages and looks.
Always wear sun protection. This is the number one cause of premature aging. Wearing a quality natural sunscreen is going to benefit your skin greatly and prevents wrinkles.
Exfoliate your skin regularly. With the slow of cell production aging skin begins to look dull. Exfoliating will not only refresh the look of your skin but it will increase the circulation to your skin's surface which encourages new cell growth. It also keeps your pores clean so your skin functions properly and it is much easier for it to absorb nutrients you apply to it.
Moisturize. Keeping your skin properly hydrated is extremely important. With oil production lessening with age dry skin can become a problem. When skin is dehydrated it not only looks dry, but wrinkles become more pronounced and can worsen. A good anti aging moisturizer will hydrate and plump up your skin naturally so it is truly moisturized and not just puffed up from chemicals. This will also help slow the formation of new wrinkles.
Vitamin Supplement. It can be hard getting all of the nutrients your skin needs from your diet alone so a good vitamin supplement is especially helpful with aging skin. Talk to your pharmacist or go to your local health food store to find a multi vitamin to suit your age group and personal needs.
Use natural ingredients that encourage skin cell regeneration and repair and are high in antioxidants. Natural ingredients used on your skin that are high in antioxidants are excellent for aging skin. They protect our skin from the sun, pollutants and other toxins that damage our skin. With cell production slowing as we get older it is very important to keep your skin as protected as possible. This will help lessen dull looking skin. Natural ingredients also ensures your skin has everything it needs to heal, regenerate and repair skin cells.
Whether you are at the age where wrinkles are just starting or you already have them, Natural Anti Aging Skin Care will keep your skin looking younger and smoother longer than any chemical product on the market. Why? Because you give your skin what it really needs to fight wrinkles and stay smooth and radiant. Foods and natural ingredients full of nutrients your skin loves!