Organic Healthful Herbs, Spices & Seasonings Selection.
Mega health, antioxidant, anti-aging benefits, the easy way to get well!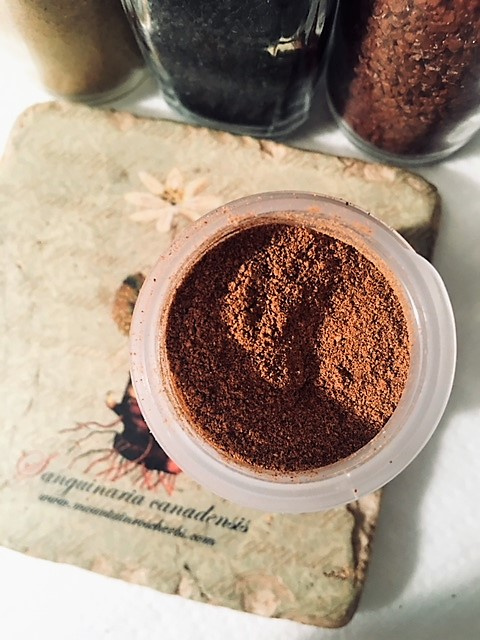 The new range of sprinkles and salts are all beneficial for your health as well as being tasty for your meals. Each herb, spice or salt boasts an array of medicinal qualities like improved stomach function, easing of gas/wind/stomach upset and indigestion or for a calmer, more balanced feeling. My new earth inspired salts are easy to assimilate, boosting iron levels gently with the Red salt, or detoxifying the body from harmful substances with the charcoal containing Black salt.
The herbs and spices list are all fresh, small batches blends and have retained essential potency for your benefit. There are no stale "long life" shelf products in my herb shoppe, I use only the finest ingredients and make up each item to order so you know that you will receive the best, most fresh product on the market. The next best thing is to grow your own which I wholly recommend.


Organic Healthy Herbs & Spices Cooking Collection A - Z Per Ounce.


Amber's Organics now sells fresh herbs and spices by the ounce. These can be tried and tested as teas or health seasonings, they can be blended for create your own favourite recipes.

From $2.99



Organic Perfect Pumpkin Pie Spice Blend - Fiercely fresh from the AO Spice Counter.


Vegan, gluten-free, grain-free, no bake/raw, nut-free, oil-free, refined sugar-free, soy-free

From $3.50



Organic Perfect Pickling Spices Blend - Fresh Taste.


This sweet and savory blend is a must have for avid home pickle fans! It boasts over 10 cut spices, whole berries and seeds are combined to perfectly compliment any refrigerator or canned pickled fruit or vegetable recipe.

From $3.50



Exclusive Organic English Mixed Spice.


Traditionally used for our British faire such as Christmas cakes, rock buns, hot cross buns and fruit cakes. Making this delicious blend up fresh helps contain the potency of the spices. I make small batches that are bursting with many healthpromoting properties, flavour and taste. This old fashioned recipe was something I was brought up on. My Gran was a top rated cook who worked as a young girl in some of the most elite manor homes and refined estates, she worked with some of the top chefs in our county and probably in the country, she only learnt from the very best. and used English mixed spice in many of her delicious fruit cakes and rock buns, there was no taste quite like them. You can "Americanize" your self by using it on cream cheese, muffins, toast and as you would pumpkin spice.

From $6.00



Organic Skinny Sprinkles - speed up the metabolism and burn fat


Skinny sprinkles are so good for you, they are tasty and interestingly nutritious to add to savoury foods, they will help speed up the metabolism and burn fat as well as easing fluid retention.

From $4.00



Kosher Certified Hawaiian Black Lava Salt. Detoxifying & Digestive Properties.


The added advantage of Black Lava salt is that it is infused with activated charcoal which assists the body in removing harmful impurities,and is exceptionally high in essential minerals to help maintain the body's normal functions

From $3.00



Kosher Certified Hawaiian Red Alaea Salt.


Red Alagea has a gorgeous deep red color because it is processed with a healthy quantity of Alaea, the legendary red clay found only in Hawaii, and as a result it is rich in iron oxides which may help those who suffer from iron deficiencies Red Alaea salt is excellent with salads, barbeques, fish, raw foods and other light dishes

From $3.00



Sea Salt & Organic Fresh Herbs Flavouring - SALT TWISTER 


Fresh salted herbs with a little twist of extra flavour. Ideal for Savory, chicken, fish & Vegetarian Dishes.

From $6.50



Organic Lebanese 7 Spice Medicinal Blend


This in an incredible spice blend used in Lebanese cooking. It is great as a rub for meats and poultry. If you are vegan or vegetarian your can incorporate the spice into many meals including the Tabbouleh below.

Filled with many antioxidant and anti-inflammatory benefits.

From $4.00



Organic Cinnamon & Lemon In Raw Brown Sugar


Organic cinnamon and lemon in organic, raw natural brown sugar is a flavourful blend of antioxidant loaded cinnamon with the added zest or organic ground lemon peel. This sugar blend packs the perfect punch to pancakes, cakes, muffins, waffles and cookies. Try it on your sweet foods and deserts and see what you think, it makes a change from just cinnamon.

From $2.99



Organic Ginger Sea Salt - Natural Boost


Flavored salts make an elegantly flavorful addition to any meal or even dessert. Here are some of the ways that I've enjoyed this ginger salt:

Sprinkled on baked shrimp and salmon

Tossed with sauteed or steamed veggies

Lightly sprinkled on fresh pineapple

In chicken salad

In egg salad

In soups

Mixed in with salad dressing

On Omlette especially if chinese inspired

In herb tea, a little sprinkle adds flavour

$5.00



Organic Caribbean Spices For Health


Due to the diverse make-up of the Caribbean, the food is bold, flavourful, spicy, hot, fresh and truly representative of a melting pot. This a rich antioxidant addition to any foods it holds enormous health benefits which can be gently incorporated into meals.

From $3.50



Organic Mediterranean Seasoning - Antioxidant & Anti-aging


Simple seasonings such as the included rosemary, garlic, thyme, fennel and oregano contain phytochemicals, which are natural health-promoting substances that have been found to protect against conditions such as cancer and heart disease. They also contain a high level of antioxidant protection.

From $3.50



Organic Chinese 5 Spice - Health Formula


Traditional Chinese Five Spice Powder includes fennel seed, star anise, ginger, cloves, and cinnamon. It is a sweet, warming, and stimulating addition to teas, fruit pies and traditional Chinese dishes. Fennel, star anise, and ginger settle the stomach and help prevent morning sickness in pregnancy. Clove is a strongly warming stimulant for wheezing asthma and low adrenal energy with fatigue, pallor, too frequent urination, and poor enthusiasm. Cinnamon is a spice par-excellence for winter hypothermia and diabetes. It tones digestion, increasing insulin-uptake, and feels warming in cold weather.

From $3.50



Organic West Indies Rub Spices - Mega Health


The tasty rub will give you a mega health boost each time you ingest it. West Indies rub is healthful for for the whole body, heart, lungs, joints, liver and basically for your whole system, the spices have internal cleansing effects and can rev up your body giving you a mini detox when you eat.

From $3.50



Organic Paprika - High Vitamin C & Health Benefits.


Apart from containing vitamin C, paprika is a storehouse of other essential vitamins like A, E and K. The presence of these vitamins is known to benefit the health in many ways, and is especially conducive to maintain healthy veins and capillaries.

Spicy, red hot paprika comes loaded with iron, potassium, magnesium and phosphorus. These essential minerals benefit the health in numerous ways, such as helping to purify blood, giving a boost to the heart health and more.

Paprika gets its hotness from capsaicin, a pungent, crystalline highly beneficial medicinal components that has abundant therapeutic benefits. It has many anti-inflammatory and antioxidant effects and is known to lower the risk of cancer.

Paprika is believed to be a rich source of carotenids, red and yellow pigments that are known to have many health

From $3.50



Organic Turmeric Curcumin Powder. Spices for Health..


The medicinal properties of this spice have been slowly revealing themselves over the centuries. Long known for its anti-inflammatory properties, recent research has revealed that turmeric is a natural wonder, proving beneficial in the treatment of many different health conditions from cancer to Alzheimer's disease.

From $3.50



Organic Exotic Indian Curry Powder - Super Health.


Among the health benefits of curry is that of reducing inflammation of the joints. In fact, recent research shows that turmeric helped to prevent the swelling of joints in rats that had arthritis. And it's not only arthritis that it may be helpful for. Other studies suggest that this powerful spice may also help protect us against cancer, heart disease and even Alzheimer's disease. But these health benefits are no surprise to those trained in Ayurvedic medicine where turmeric has been used for treating inflammatory disease for centuries.

From $2.99



Organic Himalayan Pink Salt - Super Food Many Minerals.


Himalayan Pink Salt has a rich mineral content that includes over 84 minerals and trace elements such as: calcium, magnesium, potassium, copper and iron. This salt is recognized for its beautiful pink color, high mineral content, and its therapeutic properties. Regular consumption of Himalayan Pink Salt provides essential minerals, trace elements, balances electrolytes, supports proper nutrient absorption, eliminates toxins, balances the body's pH, normalizes blood pressure, and increases circulation and conductivity. It can also assist with relief from arthritis, skin rashes, psoriasis, herpes, and flu and fever symptoms."

From $2.99



Organic Natural Sea Salt & Kelp "VITA" Sprinkles.


Organic kelp and natural sea salt sprinkles is a new tasty addition to many meals. It allows you to add vital nutrients to our food without having to taking excess supplements. This seaweed treat contains five vitamins: B-12, niacin, choline, carotene and alginic acid, plus 23 minerals, making it one of the most health-enriching supplements available.

From $2.50



Organic "Good for you" Garlic Granules.


Garlic has been used medicinally, and as a culinary ingredient, for over 5000 years. World folklore is littered with references to its ability to protect us, such as in ancient Greece, where mid-wives hung cloves of garlic on the windows to ward off evil spirits during childbirth. Ancient Koreans ate pickled garlic before passing through the mountains to keep tigers away as it was believed that they hated the smell. The Egyptians used to swear on cloves of garlic in the same way we swear on the Bible today as an act of indicating an honest testimony.

From $2.99



Organic Bladderwrack


Although this has a bit of an odd name, bladderwrack is actually one of the most common types of seaweed found in the oceans. Around the British Isles, Europe, the Baltic Sea, and even the eastern coast of North America, this kelp variety has the scientific name Fucus vesiculosus. Some of the other names of Bladderwrack include rockweed, red fucus, and black tang, depending on where in the world you happen to be. This type of seaweed prefers shelters inlets without too much movement or current, and is found in huge numbers in certain areas. The plant is highly identifiable by the small paired airsacs found along the midrib branches

From $3.50



Organic Horseradish Root Powder


Horseradish is low in calories and fat. However, it contains good amounts of dietary fiber, vitamins, minerals, and anti-oxidants. Certain active principles in it found to have been anti-inflammatory, diuretic (increase urine output), and nerve soothing effects.

From $3.50
Lavender Lemonade
1 cup sugar, 1/4 cup (a generous handful) fresh or 1 tablespoon dried lavender blooms stripped from stems
1 cup freshly squeezed lemon juice, strained, 5 cups water, Ice cubes, Lavender sprigs for garnish
Combine sugar with 2 1/2 cups water in a medium pan. Bring to a boil over medium heat, stirring to dissolve the sugar. Add the lavender blooms to the sugar water, cover, and remove from heat. Let stand at least 20 minutes (and up to several hours).Strain mixture and discard lavender. Pour infusion into a glass pitcher. Add lemon juice and another 2 1/2 cups water. Stir well and watch lemonade change color. Pour into tall glasses half-filled with ice or refrigerate until ready to use.
Makes: 6 cups