---
Extended offer! Free books for another month, claim yours when you order this month on gardenofcures.
Charity comes from a righteous heart.
I am truly grateful that Sherry has donated a glorious pile of beautiful read worthy and extremely inspiring books for those interested. "The Journey of Love" speaks volumes for those needing nourishment from faith and restoration. You may find this not only an educational trip with God but also a loving way to form closeness that you never though possible. Read and relish, this comes from a Godly Women who's personal experiences have guided her spiritual hand.
Sherry Womble received her bachelors in Church Ministry from the Sure Foundation, but her training began in her youth as she asked to be baptized at 6 years old. Even though you might think her road was smooth from such a beginning, the road has been quite blistered. God has allowed much to happen in her life so that she can testify to the lengths God will go through to rescue you, and she can now pray specifically for His people's oppression. Be healed oh you daughters and sons of Christ. He has your redemptive touch and He is willing to give it to you - all you have to do is ASK, SEEK, and KNOCK! Blessings to you and yours!
Sherry Womble received her bachelors in Church Ministry from the Sure Foundation, but her training began in her youth as she asked to be baptized at 6 years old. Even though you might think her road was smooth from such a beginning, the road has been quite blistered. God has allowed much to happen in her life so that she can testify to the lengths God will go through to rescue you, and she can now pray specifically for His people's oppression. Be healed oh you daughters and sons of Christ. He has your redemptive touch and He is willing to give it to you - all you have to do is ASK, SEEK, and KNOCK! Blessings to you and yours!
My recuperation story.
Where have I been? I could only wish I was off in some faraway land foraging wild medicines, but, alas, I was in surgery. I was diagnosed with kidney cancer 2 years ago, it was quite unexpected. I thought I had enough to contend with dealing with the weirdly rare conditions I already have. The Hyper IGM syndrome does make me more susceptible to cancers but with a good diet and as holistic living (plus my own ally - IVIG immune replacement therapy) as I could maintain it seemed to have had staved it off. Until now. Anyway, it took three cancelled surgeries to finally get this Tumour and kidney removed. Yes, I certainly tried to keep my little kidney, searching and researching for any hope I could grasp, but sadly, it had to go, the tumour had embedded too deep and there was just no other way. My experiences (and they are vast) have been teachers in themselves, I do what I do because of my own trials and afflictions, I believe this is what makes a true healer, the deep and compassionate desire to help others foraged through adversities and sufferings. Every experience, no matter how painful, I go through leads me to create something that ultimately will promote healing and help others.
......to be continued.
Right, now onto another year. It has been quite an evenful year, one with struggles and adjustments but blessed by the bonus of feeling that the cancer is behind me. With the surgery has come some complications, new difficuties occur but are being dealt with by some of the best Doctores I have ever had. San Antonio certainly is the medical city! The difficuties do not restrain my work only increase my own desire to accomplish even more, I value my time on earth evern more than before anf trust me, that was pretty intense then. I am busier than ever, I have great plans for Amber's Organics and cannot stop until I feel a sense of fulfillment and that things are where they should be.
---
Back to work (I never really stopped) Looking forward to many new events ahead. I have new products, new ideas, new labels and jars on the scene and a tremendous amount of hope!
"When you are inspired by some great purpose, some extraordinary project, all your thoughts break their bonds: Your mind transcends limitations, your consciousness expands in every direction, and you find yourself in a new, great and wonderful world. Dormant forces, faculties and talents become alive, and you discover yourself to be a greater person by far than you ever dreamed yourself to be."

― Patañjali
---
Show Girl! Amber's Organics gets showy at the local Wholistic festival San Antonio TX with Trish Wolfe.
---
Herbal Tea parties at Amber's Organics LLC have arrived. I shall be offering an assortment of newly formulated herbal teas and tonics for you to enjoy and test. Also, vegan, gluten free, organic nibbles as a little extra health infusion to add to our formal get together. We shall be trying out new products on some occasions. Free facials and such will be on offer, all you need to do is turn up
<3 Text me if you want to me to add you to the list for the next event which will be on 9th November 6.30 pm 2018. I have a small space and the parties will be small and very exclusive!! Lots of love!
-
-----------------------------------------------------------------------------------------------------------------------------------------------------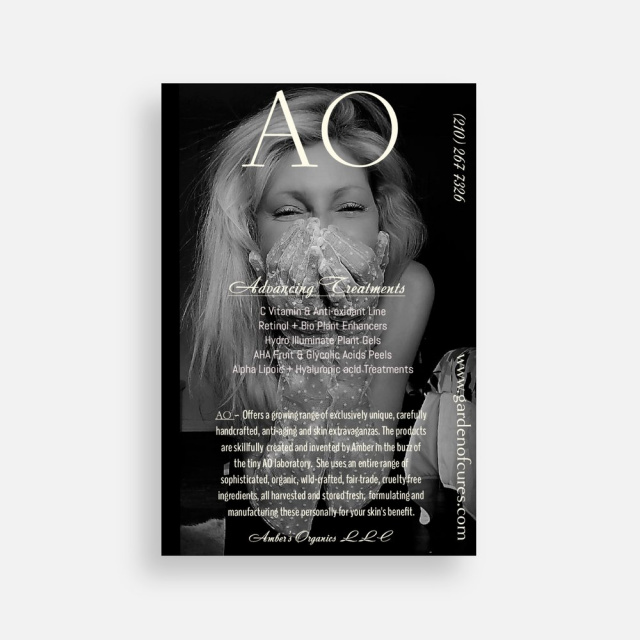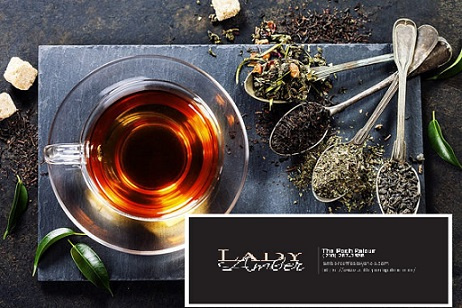 Welcome to the Tea Bar.
Are you in need of the perfect herbal tea to suit you and your needs? I am opening my tea bar very soon. I shall be offering personal guidance on a brew for you. if you have an ailment that is troubling you, step this way. Sit, relax and test some teas, you will also get a crisp ginger snap to boost your tea's effect. Please text me if you want to book in for your cuppa. I am also holding my tea parties in February. I hope to see you there.
ALERT! Amber's Organics has a special request to all of my lovely customers.
I am introducing my " Organic Hall Of Fame" photo album. We need pictures of YOU with your favourite product ( or seeds, growing, garden, etc) with a comment about why you love it, make them fun and show your creative flare & just be your natural self. you will be added to the new Face Book & Website albums. Please send all pictures to my email address ambersoffea@aol.com
---------------------------------------------------------------------------------------------------------------------------------------------------------
New! Inspire us! Stories of the month. I am featuring your story to encourage, uplift and allow others to benefit from any valuable information you have gathered that may in turn, help them. Let your light shine, let your hope be the inspiration for those in the difficulty of challenge.
Dana - A Woman of courage.
Hi Amber,
It's always been a privilege and an honor getting to know you all of
these years. I find your products to be top notch and have been a
fundamental part of my getting well no doubt.

My journey with a disease called hyperparathyroidism began roughly 15
years ago. I am 41 now so when I was 26, I began feeling extremely
fatigued. Yet all of my blood work up and UA tests and such were fine
with no remarkable results. However with further time, the blood
calcium level began going awry and Endocrinologists just kept telling
me to "wait."

The next thing I noticed that happened was chronic nausea and
heartburn, almost every day.

My appetite from 2011 to 2012 would fluctuate from being voraciously
hungry to not at all —and for days at a time not hungry.

My weight, which was never a problem for the majority of my life
suddenly began creeping up from 2008 to 2015. I was never a big eater
and I've always tried to eat five or six small meals a day so that I
could get proper nutrition from each food group.

Since fall of 2015 until the end of January this year, I was starving
because I couldn't swallow very well until recently. I know you and I
talked about it.

The tumor was so bad in September 2015, that I was violently ill from
a watermelon seed getting stuck so I never ate again until sessions
with a psychologist helped a little at a time to get me less afraid of
food.

I like food and always have, but I was afraid of choking. I was
basically a medical anorexic because I was afraid of getting sick from
food getting stuck in the swallowing process with the tumor in the
way.

I started having severe back pain due to kidney stones which were
diagnosed in October 2016. At that point, I was tired of the nonsense
and figured if medical gurus weren't going to fix me, I would.

I'd had enough and with a blood calcium level of nearly 11, (Kidney
failure is a 12) I consulted the Tampa General Hospital's Parathyroid
center and submitted the findings, all of which were "ignored." I had
a team of surgeons who were shocked to find a large, thankfully benign
tumor. I was lucky to be alive.

Please note that I also have a condition called autonomic dysfunction
and cerebral palsy simultaneously. Cerebral palsy is a condition
caused usually by premature birth. Autonomic dysfunction can run in
families or happen after surgery— there's lots of reasons why it may
develop. It's still early in the research and unsure. But I have
autonomic dysfunction as diagnosed by a team of doctors.

I was officially diagnosed with autonomic dysfunction back in early
2014 and I had to travel all the way to upstate New York to get a
neurologist willing to see me. Many expenses were out of pocket and
not covered by insurance at the time.

I currently see a cardiologist for tachycardia, but most times it's
not bothersome. I'm on a low impact exercise program. I lift weights
all day every day, but a reasonable amount of weight and nothing too
heavy.

We were hoping that the tachycardia would diminish or go away
completely after parathyroid tumor removal in April 2017 but it
hasn't. I accept that and it's my normal.

Where you tie into all of this is the fact that you kept me going and
looking forward to all of your fantastic items. I would sip soup
broths with your herbs and himalayan pink salt for nutrition. I lived
on pudding and your spices and teas. Without your products and
detoxifying items, I feel I'd be worse off. I don't know that I
would've made it. A big thank you to you again.

Your Friend,
Dana
Please text or email if you want to be featured next month.
------------------------------------------
-----------------------------------------------------------------------------------------------------------------
The S.A.G.E Shack
"I am very working hard to generate funds to complete the tiny Eco B+B so that others can stay and visit this City benefiting from the specialised resources. The Self sufficient mini B+B will offer everything needed for anyone in need of respite, recuperation, or desiring easy accessibility to the medical centre. Individualized diets and advice will be on hand. The tiny Herb tea bar at the ready, the herb shoppe for browsing and purchase at leisure, the fun clothes shoppe with it's own chat corner, a small healing garden, personal prayer on request, welcome parties, it's all going to be for your betterment of health. Keep praying this vision can be finally brought into much needed reality, this is going to be a tiny piece of heaven in SA TX!"
-

Amber Soffea
The origins of the S.A.G.E shack are held within the desire to be as self reliant as possible. To utilize what we have, to get what we need. These funds are used wisely, every last penny is valued and committed to the project in hand.

Amber's Organics LLC presents: S.A.G.E Shack
Sustainable and green empowerment.

Clothes for cause! Our clothes are brand new, or lightly worn and ready for recycling. We have brand names and quality items at an affordable cost in the tiniest shop around. You see, we have a goal. We need to generate funds to be able to complete our much-needed workshop and ECO Dome home B & B. We need your support and good works. Anything purchased will go towards a great project that will benefit our community.

New and unworn with S.A.G.E label.
We encourage you to get good use out of all you buy. Be proud to be a no waste warrior. Items are Vegan & Biodegradable.
Item of the week.
Crazy Cute! Ceremonial Silver and White Cuff Bracelet Lulus Exclusive
https://www.ebay.com/itm/163749988497
Please text me if you are interested. (210) 267 7326
--------------------------------------------------------------------------------------------------------------------------------------------------------
NEW PRODUCTS
AO is going up in the world. You may notice a change over of labels. Yes, you will no doubt be the recipient of two types, the old, and my posh new ones. Gradually, there will be a transition period of complete change but for now I ask for patience (as well as feedback) I have several hundred to design and finalise, I'm grabbing moments when I can in the slow process of change over. I know I love them and despite the fact they are more pricey, I hope you will appreciate them too.
------------------------------------------------------------------------------------------------------------------------------------------------------------
Featured Product!
I have always been a strong advocate of ESSIAC and the brilliance and humanitarian compassion that oozed from Nurse Rene Caisse whose intuitive skill devised such a legendary formula. I do stock her original recipe tea (watch out for counterfeits) which I personally make here in my tiny apothecary, it is sold on my website. http://www.gardenofcures.citymax.com/…/…/6994310/8884128.htm
New Brews & Eats!

Organic Chia Seed Sustainer The Omega 3's Perfect Tea
"Discover for Yourself the Ancient Seed that Increases Energy Levels, Improves Cardiovascular Health, Stabilizes Blood Sugar, Boosts Brain Power, Supports Immune Function, Assists Elimination and Detoxification "
From $2.00
Recipe. Just add 3 tablespoons of chia seeds to 1 cup water. Mix and refrigerate till the seeds start to gel the water. This should take about an hour. Next mix 1 cup of fruit flavored tea with half of this chia mixture and a little sweetener.
NEW! Organic Jiaogulan "Immortal ea T" longevity tea
From $12.50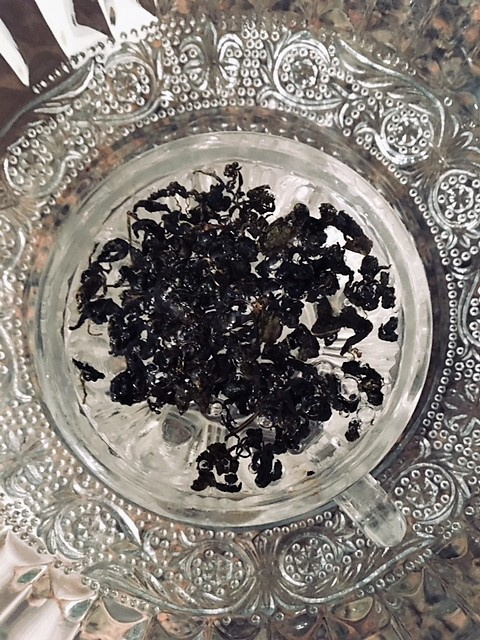 There is little more satisfying and enjoyable than the uplifting taste of a handcrafted, herbal tea. My exclusive herbal teas are freshly created and stored for a limited time to ensure the herbal essence remains. I buy small batches of the finest organic and fair trade herbs and store them in glass jars to preserve their natural nutrients and medicinal oils. Unlike finely cut conventional tea found in mass manufactured tea bags, my herbal tea is fresh, fragrant, tasty, longer lasting and far more economical and ecologically sound. You will certainly taste the difference.
IT'S GARDENING TIME!
Recommended starter seed garden: Holy basil Rama, Burdock, Chamomile, Lemon Balm, Nettles, Hyssop, Calendula, Cayenne, Garden Sage, Lavender, Echinacea, Peppermint, Flax.

Certified Pyrethrum - natural insecticide.
$3.50
New! Cancer Tree Seed. Happy Tree.


(Xi Shu, Happy Tree, Tree of Life) Chinese tree with proven anti-cancer properties. The bark, stem and leaves contain camptothecin, an alkaloid effective against leukemia, colon cancer and other tumours, and it blocks the replication of the HIV virus that causes AIDS. Drugs derived from the tree are ringing up sales in excess of $1 billion

From $2.00
Jatropha Seeds, Produces Biodesiel.


One tonne of Jatropha Curcas seeds will produce up to 600 litres of bio-diesel with proper management. Jatropha adapts to a wide range of climates and soils. It can grow almost on any type of soil whether gravely or sandy or saline and thrives even in the poorest stony soils and rock crevices. it is drought resistant perennial plant living for up to 50 years.

From $2.99
Mexican Tarragon.


The leaves and whole plant are digestive, diuretic, febrifuge, hypotensive, narcotic, sedative and stimulant. Use of the plant depresses the central nervous system, whilst it is also reputedly anaesthetic and hallucinogenic. It is used internally in the treatment of diarrhoea, nausea, indigestion, colic, hiccups, malaria and feverish illnesses.

$2.99
Soursop Seed


The graviola tree, or Annona muricata, produces the sweet soursop fruit, also called custard apple, paw paw or, in many Spanish-speaking countries, guanabana. The tree reaches a height of 25 or 30 feet and produces large fruit that may reach a length of 12 inches. Although its rind is quite bitter, the fruit's flesh is soft, smooth and sweet, and provides carbohydrate as its major nutrient. Soursop also contains abundant vitamin C and several B vitamins such as thiamin, riboflavin and niacin, along with calcium, phosphorus and a small amount of iron.

$3.50
Schisandra Seed.


Schisandra is claimed to be beneficial against premenstrual disorder. It is also said to be helpful in arousing immune protection, facilitate recuperation after surgeries, add stability to body functions, regulate the body mechanisms, shield against radiation and infections, protect against motion sickness, stabilize the blood sugar and blood pressure, provide additional energy during anxiety and tensions as well as improve the vigor. The herb also has beneficial effects in lowering cholesterol levels, protection from diseases, invigorate the RNA-DNA molecules to reconstruct cells, enhance the fitness of the adrenals as well as generate power in the body akin to that in the youthful sportsperson.

$2.95
NEW! Jojoba Seed.


Jojoba produces an edible oil from its fruit. Jojoba is grown commercially for its oil, a liquid wax ester, extracted from the seed.Indigenous Native Americans in the Sonora and Baja California used jojoba seed and oil for cooking, hair care and for treatments of many medical problems such as poison ivy, sores, wounds, colds, cancer, and kidney malfunction. Seeds may also be boiled to make a well-flavored drink similar to coffee, hence the name Coffeberry.

From $3.50
\
The House Of Fern.
Impeccable Excellence.

Experienced, skilled repairs for all of your Guitar needs. Complete setups or simple setups, finished fast!

(210) 818 3182
---------------------------------------------------------------------------------------------------------------------------
Creator of earth inspired organics.
I noticed this very unhappy tree outside HEB.
-------------------------------------------------------------------------------------------------------------------------------------------------------------------------------------
WANTED, CAT FOOD FOR OUR GANG OF GLORIOUS RESCUED CATS.
More additions to our rescued Cats gang, 4 strays we found lost and starved are now fatter and much happier living not too far away, a wild young stray almost coming to hand of late called named, Saved, joined the gang a few months ago, and new rescued fun loving kitten, Sage, who now lives with me, so all food is gratefully eaten and appreciated.
AMBER'S ORGANICS HAS BEEN SELLING NEW AND RECYCLED CLOTHES VIA EBAY TO FEED THE HUNGRY FELINES BUT WE CAN ALWAYS USE MORE. IF YOU WISH TO SEND A DONATION OF CAT FOOD, CLOTHES TO SELL OR A DONATION OF ANY KIND PLEASE POST TO AMBER'S ORGANICS, C/O CAT FEED FUND 3781 SHERRIL BROOK RD, SAN ANTONIO TX 78228.
WE WISH TO GIVE A HEARTY THANKS TO PURINI CAT FOOD COMPANY FOR DONATING A BAG OF CAT GOODIES FOR THE HUNGRY GANG. MAY YOU BE BLESSED FOR YOUR KIND WORKS, THE CATS TUMS ALL APPRECIATE YOU!
Please copy and paste this link into your browser to see the cat fund clothes selection.
http://stores.ebay.com/Ambers-gardenofcures/New-Recycle-Clothes-Shoes-/_i.html?_fsub=14584731&_sid=371341832&_trksid=p4634.c0.m322
Bless you!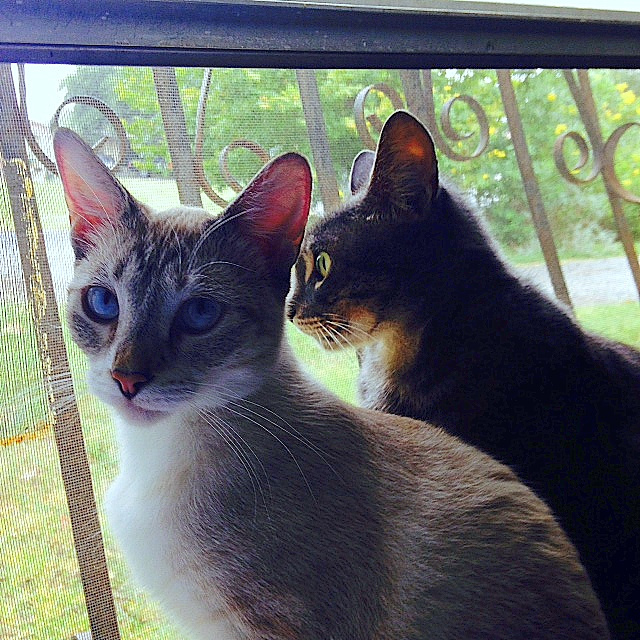 -----------------------------------------------------------------------------------------------------------------------------------------------------------------------
FANTASTIC FEEDBACK. Please read my wonderful feedback on eBay and Etsy (and Hall Of Fame here) to see how much Amber's Organics herbal works is appreciated. It makes me feel utterly blessed and humbled to serve. To be able to contribute in a such a miniscule way and have recognition is truly a gift. Thank you for your generous and caring support of my herbal cause. Your own suggestions are always appreciated, so do not hesitate to write to me at my email address. ambersorganics@aol.com
--------------------------------------------------------------------------------------------------------------------------------------------------------------------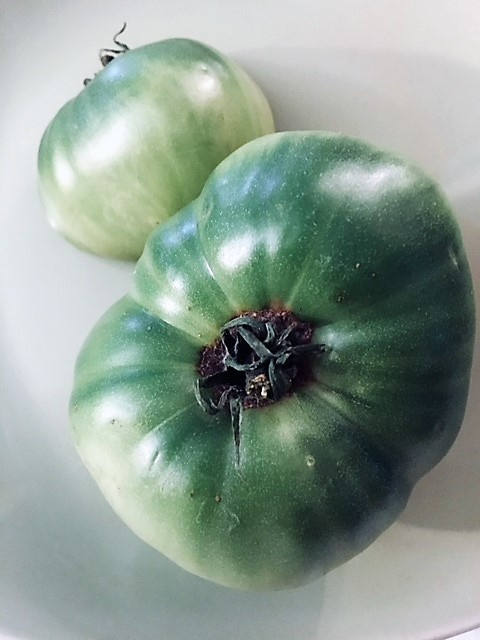 My first tennessee green tomatoes this year.
It is a good time to start collecting your next years seeds for planting. Get started with my herb and vegetable pages, add a few tomatoes too and be prepared. I have new seeds in stock to inspire your drive.
(Pipal) Sacred tree of Hindus and Buddhists; Buddha meditated non-stop for 7 years under a bo-tree until he reached liberation. Has anti-bacterial properties. Fine houseplant like Ficus benjamina. Slow to germinate.
$2.99
------------------------------------------------------------------
-------------------------------------------------------------------------------------------------------------------------------------------------------------
The Miracle Gynura Plant
Antiviral Miraculous Detoxifying Herb.
Gynura procumbens is the new superfood. In Java, the young shoots of this plant are eaten raw as a vegetable. Singaporeans find it more palatable if the leaves have been blanched in hot water before consumption. This would be a matter of taste.

Ultimately, you are what you eat. For someone living with diabetes nothing could be truer. When it comes to maintaining good blood sugar levels, a healthy diet is vital. People with diabetes have to take extra care to ensure their diet is properly balanced with their insulin and oral medications. The right meal plan will also help any person living with diabetes improve their blood glucose levels. In Thai, this herb is known to reduce blood sugar and reverse diabetes. It is called "Longevity Spinach" it is said to be effective on Type 2 Diabetes and has proven to lower blood glucose on type 1 diabetes as well. Being an anti viral and anti-inflammatory herb it has the ability to help regulate not only the blood glucose, but also blood pressure and cholesterol levels. It has also shown promising results against viruses such as cancer and HIV.
General studies:
Anti-Inflammatory: Study of ethanol extract showed antiinflammatory activity.

Antihypertensive: Study showed the oral administration of aqueous extract significantly lowered blood pressure in spontaneously hypertensive rats. Results suggest GPE may be useful for prevention and treatment of hypertension through increasing NO (nitric oxide) production in blood vessels.

Glucose Lowering: Ethanolic extract of leaves significantly suppressed elevated serum glucose levels in diabetic rats. The extract did not significantly suppress glucose levels in normal rats. Results conclude the leaves of GP may be biguanide-like activity.

Abundant Leaf Proteins / Peroxidase: Study found few abundant proteins from the leaves of GP; among these, peroxidase was found the most abundant of the extracted proteins. Results suggest a natural source for peroxidase for use in the cosmetic and skin care industry.

Nutritive / Antioxidative Properties: Ethanolic Gynura extract exhibited the highest antioxidative properties in every assay. Nutritive evaluation suggests the extract is a good protein source and may have positive effects on free radical scavenging and iron chelating.

Gynura procumbens Medical Toothpaste: A Gynura procumbens toothpaste invention consists of" gynura procumbens (Lour.) extractant of 1-20%, glycerol of 20-55%, diglycol of 10-15%, abradant of 20-45%, carboxymethyl cellulose of 0.5-1.5%, sodium dodecyl sulfate of 0.5-2%, additive of 1-4%, essence of 1-2% and saccharin of 0.1-1%.

Anti-Ulcerogenic: Study results suggest the ethanolic leaf extract of Gynura procumbens promotes ulcer protection as shown by significant reduction of ulcer area, histologic decreases in ulcer areas, with absence or reduction of edema and leucocyte infiltration of submucosal layer.

Anti-Diabetic: (1) Study evaluating the water extract of G. procumbens in streptozotocin-induced diabetic rats showed a hypoglycemic effect by promoting glucose uptake by muscles. (2) Study results suggest the antidiabetic effect may be mediated through the stimulation of glucose uptake and the potentiation of insulin action.

Toxicological Evaluation: Administration of a methanol extract of G. procumbens did not produce mortality or significant changes in various parameters in both acute and sub-chronic toxicity studies.

COMMON USES
Besides the above medicinal properties, according to the Plant Resources of South East Asia (PROSEA), this plant is also used in Africa, where the boiled leaves are applied externally to relieve general body pains and raw leaves for rheumatic pains. Dried and pounded leaves are mixed with oil and applied as a poultice to treat skin complaints. It also used for the treatment of kidney problems and dysentery.

Longevity Spinach (gynura procumbens) can be eaten fresh like a salad, stir fried with other vegetables, juiced, and also enjoyed as a cup of tea. It has a very delicious taste.

CULTIVATION / GROWING
This plant grows easily from stem-cuttings. Seeds are not available. It is best grown in well-draining, fertile soil that is kept moist at all times. Semi-shade is preferred by this plant although it can be slowly adapted to grow in full sun, provided the plant does not dry out at the roots. Initial planting under direct sunshine will result in burnt leaves and stunting in growth. Growth should resume once the plant has acclimatised to its new growing conditions.

Gynura procumbens grows as a scrambling perennial plant with stems that can extend 18-20 feet long if left to grow. The fleshy leaves are bright green, and rather smooth to touch. The shape of leaves can vary depending on the growing conditions and they can range from roundish to ovate in shape but are all shallowly toothed at the margins.

In shade, they are darker green and appear rather flat but under direct sun, the two sides of each leaf may develop a slight V shape along the mid-rib and take on a lighter green color. The plants I have seen so far have green leaf undersides although I read that there are plants with purple undersides.

The stems can be totally purple or have patches/specks of purple. From the above description, one can observe that Gynura procumbens can be highly variable.

Gynura will climb if you let it but it is easy to keep it as a small bush in pots with regular pruning (harvesting/eating).
Amber's Organics sells organic Gynura plants in Biodegradable pots for easy transplanting for only $10 per plant.
Call/Text 219 267 7326 to purchase your plant and start on your way to better health.
--------------------------------------------------------------------------------------------------------------------------------------------------------------------
Featured Late Summer Products.
2 Easy Compost Recipes to Get Your Organic Garden Growing
A healthy vibrant garden requires organic nutrients like carbon and nitrogen. Compost is a natural recycling technique used by organic gardeners to put nutrients back into depleted soil. It can be made at home by reusing leftover scraps from the kitchen and organic matter from the yard. Check out our article on the benefits of compost for your garden.
Making compost is like baking a cake or making soup. When you make it the first time or two, you use a recipe. The recipe contains a list of ingredients and an explanation of how to combine them. If an ingredient is missing or isn't added according to the recipe the cake or soup might fail.
This also applies to compost, there is a recipe. There are specific ingredients that require specific measurements. Furthermore, like your cake recipe the ingredients must be combined in a certain way for the recipe to succeed.
Below is a recipe for two different types of compost piles. One is high maintenance and will produce compost quickly in four to six weeks. The other is a low maintenance recipe and who knows when you will have compost. It could be one month, two months or even a year before you have usable compost.
Spring and fall are great times to start composting as there are plenty of ingredients available from your own garden and kitchen waste. So clean up the yard, follow the recipe below and start composting!
Ingredients:
Note: You will need nitrogen (N) and carbon (C) at a ratio of one part (N)itrogen to three parts (C)arbon.
(N)itrogen (one part) components consist of:
Stable scraps like horse manure, rabbit, pig, goat and chicken manure

Fish meal

Blood meal

Cottonseed meal

Legumes such as alfalfa and pea clover

Green garden waste like weeds

Algae and sea weed

Coffee grounds and filters

Algae

Seaweed

Lake moss

Hair

Kitchen vegetable scraps

Grass clippings without chemical fertilizers from the first two or three weeks of spring when they are lush and tender (at this time they are high in nitrogen but afterward they go into the carbon category)

Sod
(C)arbon (three parts) components consists of:
Straw

Dried leaves

Sawdust in small amounts, (as long as it hasn't been treated with chemicals)

Untreated wood chips in small amounts

Shredded newspaper

Cardboard

Dryer lint

Corn stalks and corn cob

Shredded brown paper grocery bags

Pine needles and pine cones

Oak leaves

Egg shells
Water - You will need just enough water for the pile to be moist, not wet.
Air Circulation
What NOT to add to a compost pile:
Ashes from coal or charcoal, cat litter or droppings, dog waste, fish scraps, ashes from untreated wood, meat, fat, grease, oils, bones, milk, cheese, yogurt, potatoes, sawdust and wood shavings from chemically treated wood.
Recipe for a high maintenance compost pile:
If you want compost quickly and you aren't afraid of a few quick chores then this recipe is for you.
Compost can be made in a pile in the back yard or a bin
according to the compost chef's preferences. Keep in mind that if you mix your compost in a pile, it needs to be protected from varmints. You can easily do this by surrounding the pile with chicken wire or by building a wood enclosure. Make sure that any large ingredients, like paper bags or garden waste, are broken down into small pieces so that they will quickly decompose.
For maximum production of your compost pile, combine all of your ingredients at once. Don't keep adding ingredients to the bin. Every time a new ingredient is added to the pile, the decomposition process starts over. That's why it is a good idea to have two piles going at the same time. Use one pile to collect the ingredients and a second pile that is engaged in the composting process.
To build your compost pile, first put a pile of twigs and sticks at the bottom so your pile will circulate air and breathe. Next, layer the (C)arbon and (N)itrogen ingredients on top of the twigs, starting with the (C)arbon ingredients. Continue with the (N)itrogen and then the (C)arbon, next the (N)itrogen and finishing with the (C)arbon.
Next add water. Add just enough so that the ingredients feel like a damp sponge that has been wrung out. To test for dampness pick up a handful of the ingredients and wring them out. If a few drops of water come out, it's perfect. However if a stream of water comes out, your pile is too wet. If the pile is too wet, add more dry ingredients and let the pile dry out. To help the pile quickly dry while keeping it oxygenated, turn it often using a shovel or a pitch fork, about once every day or two.
If you mixed one part (N)itrogen with three parts (C)arbon and your compost pile is damp like a wrung out sponge, it should heat to a temperature between 104°-160°, even in cold northern climates. Stir the pile about every four to seven days. Mix thoroughly. Stirring will move the cold ingredients into the warm center of the pile. Stirring replenishes foods and oxygen for the microorganisms that are hard at work breaking down the ingredients. Heat helps the ingredients quickly decompose and keeps the pile operating at its peak. Moreover, at 131° most disease causing pathogens die as well as pests, seeds and weeds.
You will know when your compost is finished when it smells earthy, contains small uniform particles and the color resembles dark brown soil and is light and fluffy.
Recipe for low maintenance compost:
If you don't care how long it takes to make compost, one month, six months, or even one year and you don't have time for weekly chores, then this recipe is for you.
Follow the above recipe. The exception, the ingredients of this low maintenance pile do not need to be combined at the same time. You can start your pile with a few ingredients and add ingredients as they become available. Furthermore, you don't need to stir this pile as often, just when you think of it. In this low maintenance recipe, do not add weeds or diseased plants because the compost won't get hot enough to destroy pathogens.
List of handy tools:
Garden gloves

Compost Bin or chicken wire

Compost Thermometer

Shovel

Pitch fork for stirring compost

Worms

Compost starter

Compost accelerator

• Indoor pail for kitchen waste

Books on composting
The following is a chart listing common composting materials

Vegetables and veggie peels
Yes
Nitrogen
Great source of nitrogen. Bury in compost pile.
Leaves (trees and bushes)
Yes
Carbon
May contain materials bad for plants.
Ashes from untreated, unpainted wood
Careful
Neutral
Fine amounts at most. Can make the pile too alkaline and suppress
composting.
Fruit and fruit peels
Yes
Nitrogen
great source of nitrogen. Bury within compost pile.
Bird droppings
Careful
Nitrogen
May contain weed seeds or disease organisms.
Cardboard
Yes
Carbon
Shred into small pieces if you use it. Wetting it makes it easier
to tear. If you have a lot, consider recycling instead.
Cat droppings or cat litter
No
n/a
May contain disease organisms. Avoid.
Coffee ground and filters
Yes
N
Great souce of nitrogen for your composter, add the grounds and the filter. Worms love coffee grounds and coffee filters.
Compost activator
Not required, but ok.
Neutral
You don't really need it, but it doesn't hurt.
Cornstalks, corn cobs
Yes
Carbon
Best if shredded and mixed well with nitrogen rich materials.
Diseased plants
Careful
Nitrogen
If your pile doesn't get hot enough, it might not kill the organisms,
so be careful. Let it cure several months, and don't use resulting
compost near the type of plant that was diseased.
Dog droppings
No
n/a
Avoid.
Dryer lint
Yes
Carbon
Compost away! Moistening helps.
Eggshells
Yes
O
Break down slowly. Crushing shells helps.
Fish scraps
No
n/a
Can attract rodents and cause a stinky pile.
Beverages, kitchen rinse water
Yes
Neutral
Good to moisten the middle of the pile. Don't over-moisten the
pile.
Hair
Yes
Nitrogen
Scatter so it isn't in clumps.
Lime
No
n/a
Can kill composting action. Avoid.
Manure (horse, cow, pig, sheep, goat, chicken, rabbit)
Yes
Nitrogen
Great source of nitrogen. Mix with carbon rich materials so it
breaks down better.
Meat, fat, grease, oils, bones
No
n/a
Avoid.
Milk, cheese, yogurt
Careful
Neutral
Not recommended. Put it deep in the pile to avoid attracting animals.
Newspaper
Yes
Carbon
Shred it so it breaks down easier. It is easy to add
too much newspaper, so recycle instead if you have a lot.
Don't add slick colored pages.
Ashes from coal or charcoal
No
n/a
Shredding leaves helps them break down faster.They decompose slower without shreding. Acidic.
Sawdust and wood shavings (untreated wood)
Yes
Carbon
You'll need a lot of nitrogen materials to make up for the high
carbon content. Don't use too much, and don't use treated woods.
Pine needles and cones
Yes
Carbon
Don't overload the pile. Also acidic and decomposes slowly.
Weeds
Careful
Nitrogen
Dry them out on the pavement, then add later.
Sod
Careful
Nitrogen
Make sure the pile is hot enough, so grass doesn't continue
growing.
Algae, seaweed and lake moss
Yes
Nitrogen
Good nutrient source.
Amber's Corner. Garden Tip of the month.
Our earth is in trouble, and we've got to save it!

If you throw away 2 aluminum cans, you waste more energy than 1,000,000,000 (one billion) of the world's poorest people use a day.
Making a new can from scratch uses the energy equal to half a can of gasoline.
About one third of what an average American throws out is packaging.
More than 1,000,000,000 (one billion) trees are used to make disposable diapers every year.
In one minute, 50 acres of rainforest are destroyed.
Some rain has a pH of 3 or 4. (which is pretty acidic, considering 7 is neutral, not acidic, and battery acid has a pH of 1). Some fish, such as lake trout and smallmouth bass, have trouble reproducing at a pH of 6, which is only slightly acidic. Some clams and snails can't survive at all. Most crayfish are dead at a pH of 5. You can see how bad this is for the environment.
On average, a person in the US uses energy two times more than a person in Japan or West Germany does, and 50 times more than a person in India.
About 90% of the energy used in lighting a standard (incandescent) light bulb is lost as heat.
Air conditioning uses 10 times more energy than a fan, therefore, it creates 10 times the pollutants.
It takes half the output of the Alaskan pipeline to heat the air that escapes from all the homes in the US during a year.
Cars and pick-up trucks are responsible for about 20% of the carbon dioxide released into the air.
There are about 500 million automobiles on the planet, burning an average of 2 gallons of fuel a day. Each gallon releases 20 pounds of carbon dioxide into the air.
About 80% of our trash goes to landfills, 10% is incinerated, and 10% is recycled.
Since there is little oxygen underground, where we bury our garbage, to help bacteria eat the garbage, almost nothing happens to it. Scientists have dug into landfills and found ears of corn still intact after 20 years, and newspapers still readable after 30.
The average American makes about 3.5 pounds of trash a day.
In a year, the average American uses as much wood in the form of paper as the average resident of the developing world burns as fuel.


26 things we can do to help:


1. Turn off lights.
2. Turn off other electric things, like TVs, stereos, and radios when not in use.
3. Use rechargable batteries.
4. Do things manually instead of electrically, like open cans by hand.
5. Use fans instead of air conditioners.
6. In winter, wear a sweater instead of turning up your thermostat.
7. Insulate your home so you won't be cold in winter.
8. Use less hot water.
9. Whenever possible, use a bus or subway, or ride your bike or walk.
10. Try to buy organic fruits and vegetables if you're concerned about pesticides. (Organic food is grown without man-made fertilizers and/or pesticides).
11. Don't waste products made from forest materials.
12. Use recycled paper and/or recycle it. Reuse old papers.
13. Don't buy products that may have been made at the expense of the rainforest.
14. Support products that are harvested from the rainforest but have not cut down trees to get it.
15. Plant trees, espessially if you have cut one down.
16. Get other people to help you in your cause. Make and/or join an organization.
17. Avoid products that are used once, then thrown away.
18. Buy products with little or no packaging.
19. Encourage your grocery store sell environmentally friendly cloth bags for people to use when they shop, or bring your own.
20. REDUCE, REUSE, & RECYCLE.
21. Compost.
22. Buy recycled products.
23. Don't buy pets taken from the wild.
24. If you have a good zoo nearby, (if the animals are healthy and the zoo takes care of them), support it! Especially if they help breed endangered animals.
25. Don't buy products if animals were killed to make it.
26. Cut up your six-pack rings before throwing them out.
What Winston Churchill Can Teach You about Green Living
Winston Churchill was a bigger-than-life statesman, military man and strong voice during the horror of World War II. He also wrote, receiving the Nobel Prize in Literature. He used words well. His wisdom is something to study for straight-forward talk.
"The price of greatness is responsibility."
Churchill understood responsibility. There is a valuable lesson here that if the United States is to be a leader in green living, we must act accordingly. Being green isn't always easy, but it's the right thing to do.
"We make a living by what we get, we make a life by what we give."
Giving back to the planet is an honorable thing to do. There is a certain sense of satisfaction that comes from knowing that you are making green choices and reducing your carbon footprint. It's a personal thing. Some people may not car to make that decision, but you have. You are helping to make a better life for future generations.
"We are stripped bare by the curse of plenty."
One of the best ways to live a green lifestyle is to live within your means, using just what you need. America has become a society of plenty. It's not enough to have just one TV or stereo. The average American has lots of things. According to the U.S. Environmental Protection Agency (EPA), the average household has 24 electronic products. This adds up to significant portion of your home's carbon footprint.
"Attitude is a little thing that makes a big difference."
Some people write off actions like recycling or smart purchases, saying that they mean nothing. However, when taken as a whole, your choices and those of others make a big difference. Americans are embracing recycling more and more. Recovery rates of most items in the municipal solid waste stream continue to rise. It's the change in attitude that makes the difference.
Winston Churchill was a wise man in his time and still today. He has much to teach us about fortitude and courage even in the darkest times. His words can be an inspiration to you and others to make good choices that will benefit the environment and future generations. These selfless acts are the foundation of greatness.
Ingredients: green and brown yard waste, water as needed.
Directions
In a heap, layer your yard waste as it accumulates. For faster composting, chip it up first.

Water so compost is kept as moist as a wrung-out sponge.

In a year to 18 months, the material at the bottom and center of the pile will be dark, crumbly compost. Sift, and use the uncomposted material to start a new batch.
Chamomile Jelly Recipe from Britain Origin: Britain Period: Traditional This is a traditional British recipe for a classic clear jelly made from apples that's flavoured with dried chamomile flowers. Ingredients: 2.5kg cooking apples, washed and roughly chopped juice of 3 lemons 6 tbsp dried chamomile flowers 75g sugar per 100ml liquid Celtnet recipes chicken recipe divider Chamomile Jelly Preparation: Method: Place the apples and the chamomile flowers in a heavy-bottomed saucepan along with just enough water to cover. Bring to a boil, reduce to a simmer and cook for 30 minutes, until very soft. Pour into a jelly bag or a sieve lined with several layers of muslin and allow to drain into a bowl (do not be tempted to squeeze the bag as this will only make the jelly cloudy). The following morning discard the fruit pulp and flowers then measure the volume of the liquid and add 75g sugar per 100ml of fluid. Place the juice, lemon juice and the sugar in a saucepan, heat through then add the sugar, stirring until completely dissolved. Bring to a boil and cook rapidly for about 15 minutes. Test for setting by placing a plate in the fridge. Spoon a little of the jelly onto the plate, allow to cook then move it with your fingernail. If a crinkly skin forms then the jelly is ready. If not continue boiling for 5 minutes more and test again. Skim the surface then ladle into sterilized jars that have been warmed in an oven set to 100°C for 5 minutes. Allow 1cm of head space then secure the lid, allow to cool and store. This is excellent jelly with a delicate apple and honey flavour that works well on toast and makes a good accompaniment to cheese.

Read more at Celtnet: http://www.celtnet.org.uk/recipes/miscellaneous/fetch-recipe.php?rid=misc-chamomile-jelly
Copyright © celtnet
Chamomile Jelly Recipe from Britain Origin: Britain Period: Traditional This is a traditional British recipe for a classic clear jelly made from apples that's flavoured with dried chamomile flowers. Ingredients: 2.5kg cooking apples, washed and roughly chopped juice of 3 lemons 6 tbsp dried chamomile flowers 75g sugar per 100ml liquid Celtnet recipes chicken recipe divider Chamomile Jelly Preparation: Method: Place the apples and the chamomile flowers in a heavy-bottomed saucepan along with just enough water to cover. Bring to a boil, reduce to a simmer and cook for 30 minutes, until very soft. Pour into a jelly bag or a sieve lined with several layers of muslin and allow to drain into a bowl (do not be tempted to squeeze the bag as this will only make the jelly cloudy). The following morning discard the fruit pulp and flowers then measure the volume of the liquid and add 75g sugar per 100ml of fluid. Place the juice, lemon juice and the sugar in a saucepan, heat through then add the sugar, stirring until completely dissolved. Bring to a boil and cook rapidly for about 15 minutes. Test for setting by placing a plate in the fridge. Spoon a little of the jelly onto the plate, allow to cook then move it with your fingernail. If a crinkly skin forms then the jelly is ready. If not continue boiling for 5 minutes more and test again. Skim the surface then ladle into sterilized jars that have been warmed in an oven set to 100°C for 5 minutes. Allow 1cm of head space then secure the lid, allow to cool and store. This is excellent jelly with a delicate apple and honey flavour that works well on toast and makes a good accompaniment to cheese.

Read more at Celtnet: http://www.celtnet.org.uk/recipes/miscellaneous/fetch-recipe.php?rid=misc-chamomile-jelly
Copyright © celtnet
Chamomile Jelly Recipe from Britain Origin: Britain Period: Traditional This is a traditional British recipe for a classic clear jelly made from apples that's flavoured with dried chamomile flowers. Ingredients: 2.5kg cooking apples, washed and roughly chopped juice of 3 lemons 6 tbsp dried chamomile flowers 75g sugar per 100ml liquid Celtnet recipes chicken recipe divider Chamomile Jelly Preparation: Method: Place the apples and the chamomile flowers in a heavy-bottomed saucepan along with just enough water to cover. Bring to a boil, reduce to a simmer and cook for 30 minutes, until very soft. Pour into a jelly bag or a sieve lined with several layers of muslin and allow to drain into a bowl (do not be tempted to squeeze the bag as this will only make the jelly cloudy). The following morning discard the fruit pulp and flowers then measure the volume of the liquid and add 75g sugar per 100ml of fluid. Place the juice, lemon juice and the sugar in a saucepan, heat through then add the sugar, stirring until completely dissolved. Bring to a boil and cook rapidly for about 15 minutes. Test for setting by placing a plate in the fridge. Spoon a little of the jelly onto the plate, allow to cook then move it with your fingernail. If a crinkly skin forms then the jelly is ready. If not continue boiling for 5 minutes more and test again. Skim the surface then ladle into sterilized jars that have been warmed in an oven set to 100°C for 5 minutes. Allow 1cm of head space then secure the lid, allow to cool and store. This is excellent jelly with a delicate apple and honey flavour that works well on toast and makes a good accompaniment to cheese.

Read more at Celtnet: http://www.celtnet.org.uk/recipes/miscellaneous/fetch-recipe.php?rid=misc-chamomile-jelly
Copyright © celtnet
Chamomile Jelly Recipe from Britain Origin: Britain Period: Traditional This is a traditional British recipe for a classic clear jelly made from apples that's flavoured with dried chamomile flowers. Ingredients: 2.5kg cooking apples, washed and roughly chopped juice of 3 lemons 6 tbsp dried chamomile flowers 75g sugar per 100ml liquid Celtnet recipes chicken recipe divider Chamomile Jelly Preparation: Method: Place the apples and the chamomile flowers in a heavy-bottomed saucepan along with just enough water to cover. Bring to a boil, reduce to a simmer and cook for 30 minutes, until very soft. Pour into a jelly bag or a sieve lined with several layers of muslin and allow to drain into a bowl (do not be tempted to squeeze the bag as this will only make the jelly cloudy). The following morning discard the fruit pulp and flowers then measure the volume of the liquid and add 75g sugar per 100ml of fluid. Place the juice, lemon juice and the sugar in a saucepan, heat through then add the sugar, stirring until completely dissolved. Bring to a boil and cook rapidly for about 15 minutes. Test for setting by placing a plate in the fridge. Spoon a little of the jelly onto the plate, allow to cook then move it with your fingernail. If a crinkly skin forms then the jelly is ready. If not continue boiling for 5 minutes more and test again. Skim the surface then ladle into sterilized jars that have been warmed in an oven set to 100°C for 5 minutes. Allow 1cm of head space then secure the lid, allow to cool and store. This is excellent jelly with a delicate apple and honey flavour that works well on toast and makes a good accompaniment to cheese.

Read more at Celtnet: http://www.celtnet.org.uk/recipes/miscellaneous/fetch-recipe.php?rid=misc-chamomile-jelly
Copyright © celtn